Rice cookers are a convenient and inexpensive way to cook food for those confined to small spaces or without access to conventional kitchens, so I'm going to develop a few recipes specifically for rice cookers, starting with this super easy Teriyaki Shrimp and Rice. This ultra simple dish is similar to shrimp fried rice that you'd get from your local take out joint, except it's steamed not fried, and therefore way less caloric. The ultra short ingredient list means you don't have to have a lot of ingredients on hand, and most of them can be kept indefinitely either in your pantry or freezer. 
Rice Cooker Teriyaki Shrimp and Rice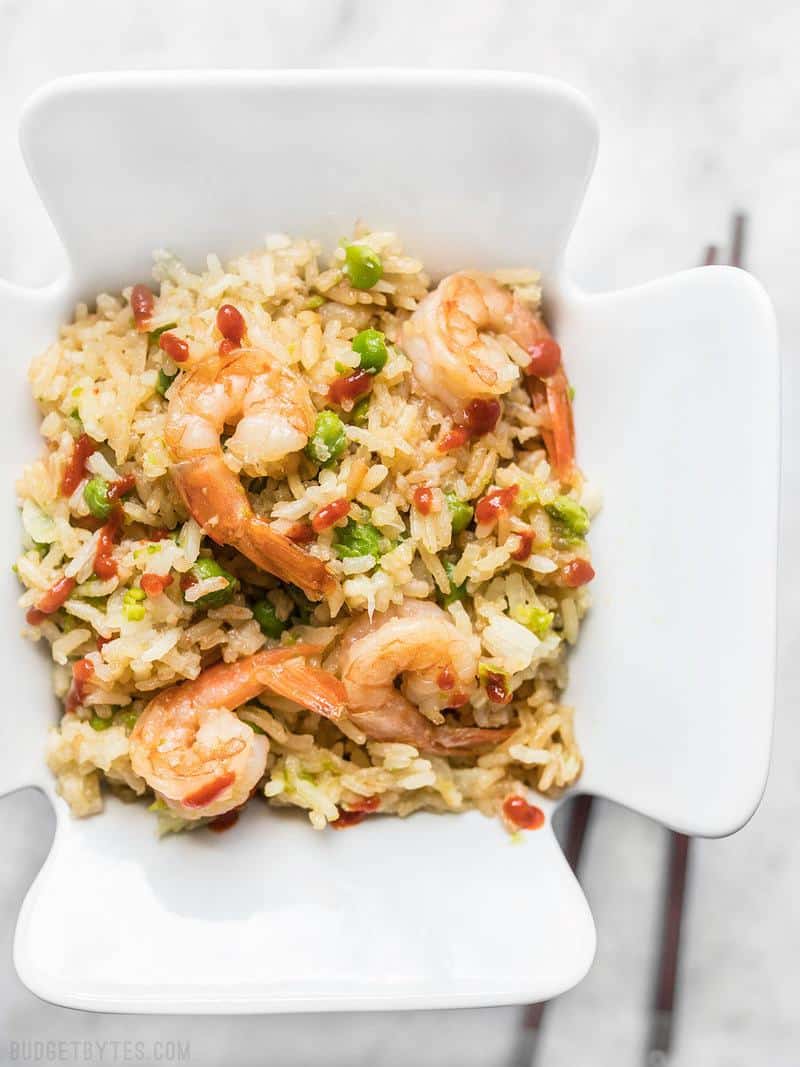 This post may contain affiliate links which won't change your price but will share some commission.
What Rice Cooker am I Using?
I chose to work with one of the most popular and most basic rice cookers on the market to make sure the recipes I develop have the broadest compatibility. That begin said, every model rice cooker is slightly different, and may yield slightly different results. I'm using the Aroma Housewares 8 cup cooked/4 cup uncooked Digital Rice Cooker.
Can I Make This in an Instant Pot?
Using the "rice" function on your Instant Pot will cook food in the same manner as a rice cooker, so this recipe should work just fine in an Instant Pot, providing you are using the rice function and not a pressure cooking function. That being said, I have not had a chance to actually test this recipe using an Instant Pot.
Rice to Water Ratios
There is a lot of conflicting information about what the proper rice to water ratio is for rice cookers, partly due to differing needs for different rice varieties and variations in the way different rice cookers work. I've tested this particular recipe several times with different rice to water ratios, and found that 1:1.33 worked best for me. Again, if using a different model rice cooker or a different variety of rice, the ratio may need to be adjusted.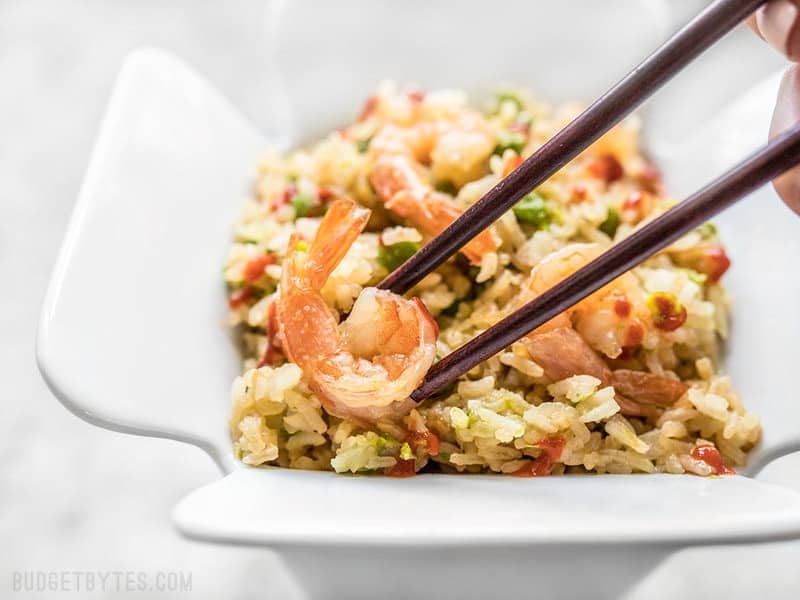 Step by Step Photos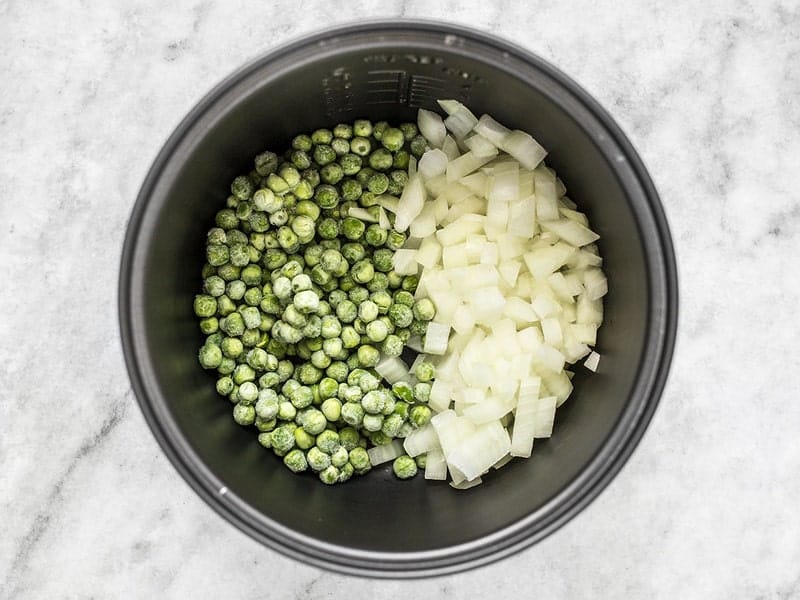 If using frozen shrimp, thaw them first by placing them in a colander and running cool water over top until thawed (this only takes a couple of minutes). Finely dice one small onion and place it in the rice cooker along with 1 cup frozen peas (I did not thaw the peas).
Add 1.5 cups white jasmine rice to the cooker, along with two cloves of garlic (minced) and about 1 tsp grated fresh ginger. Stir these ingredients together until everything is evenly combined.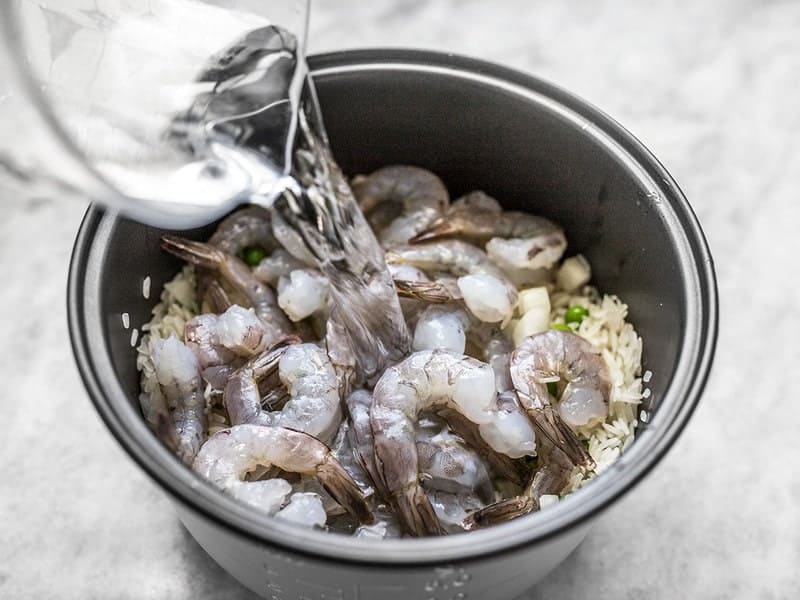 Add 1/2 lb. medium shrimp (41/50 size) to the rice cooker, then pour 2 cups water over top.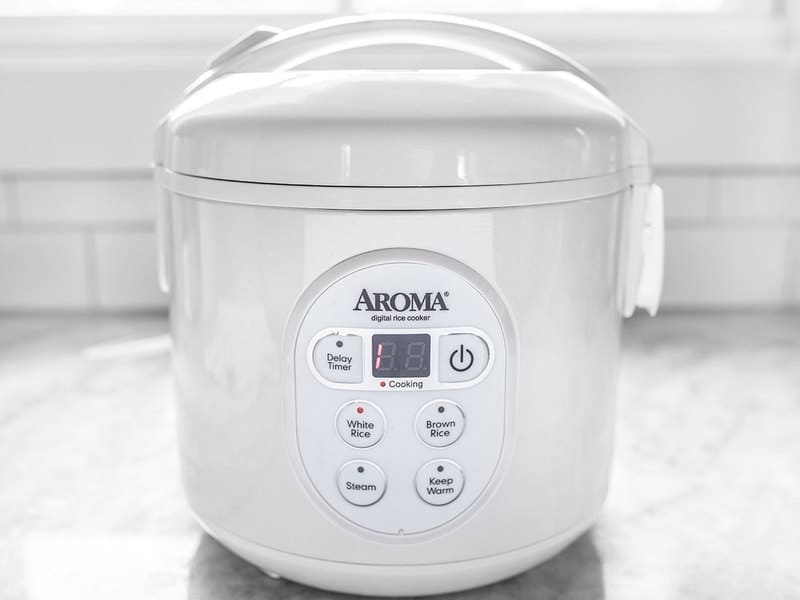 Close the rice cooker and set it to the "white rice" function. The rice cooker will begin to heat up, and once it reaches the appropriate temperature it will begin to count down the actual cooking time (mine is 12 minutes for the white rice function). Depending on the temperature and volume of the ingredients in the cooker, it can take a different amount of time to come up to temperature before it begins counting the actual "cooking time."
After the cooking cycle has finished, make sure to let it sit without opening the lid for an additional 5-10 minutes. This really helps give you more even results because it gives the steam a chance to settle in the cooker. While waiting for the rice to rest in the cooker, stir together 1/4 cup soy sauce and 2 Tbsp brown sugar in a small bowl. It's okay if the sugar doesn't totally dissolve.
Pour the soy sauce mixture over the contents of the rice cooker, then use your rice paddle to gently fold the sauce into the shrimp and rice.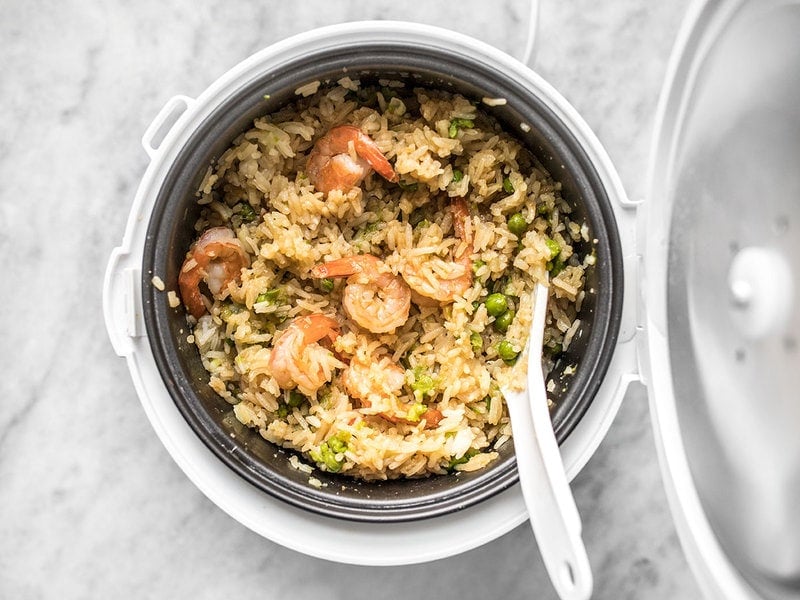 If you're at the max volume of your rice cooker, like I was, it may be easier to transfer everything to a large bowl to fold in the soy sauce, but that's up to you. Once the sauce is incorporated, the Teriyaki Shrimp and Rice is ready to eat!!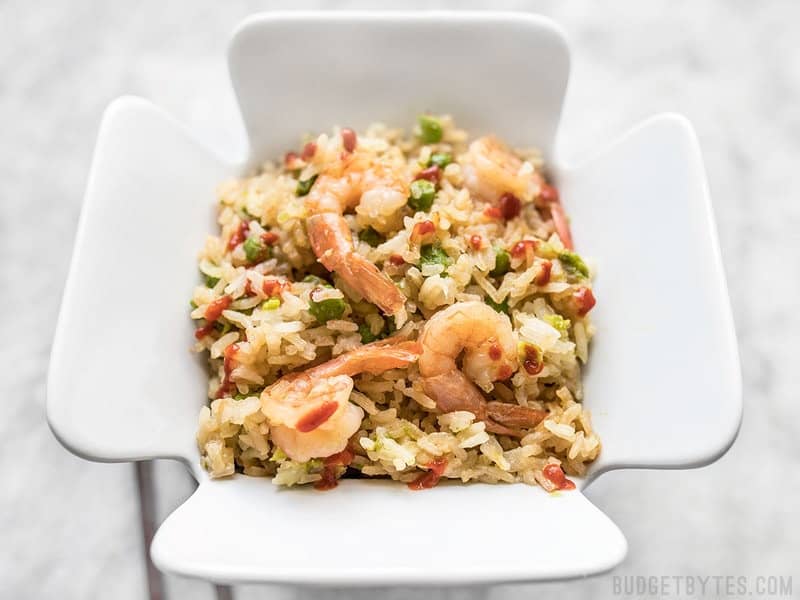 Of course I topped mine with some sriracha, but that's optional! A couple sliced green onions or cilantro would also be nice if you have them on hand.
Dig in!!
The post Rice Cooker Teriyaki Shrimp and Rice appeared first on Budget Bytes.
from Budget Bytes https://ift.tt/2wBqYW1
via IFTTT